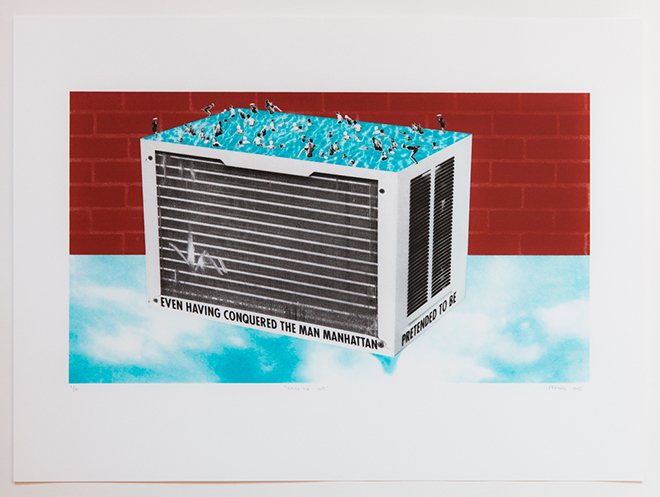 Chilling Out
Silkscreen Print, edition: 12
23"x17"
2015
This series of three prints was created in tandem with the first workshop of the Robert Moses - Jane Jacobs opera. A limited number of these prints are currently available for purchase here, with proceeds supporting the opera itself.

The first print in the series is a concept-art image created as part of the animation process. The print depicts a dripping air conditioner, a motif that dots the exteriors of Moses' prolific housing developments, juxtaposed with a public swimming pool, representing one of Moses' positive achievements. The air conditioner appears in our film Mannahatta, which premiered at the BAM NextWave Festival in 2013 and marks the first animation studies for this opera. This print's design includes a fragment from Tracy K. Smith's libretto - a study for how selections of the libretto will be embedded into the opera's animation.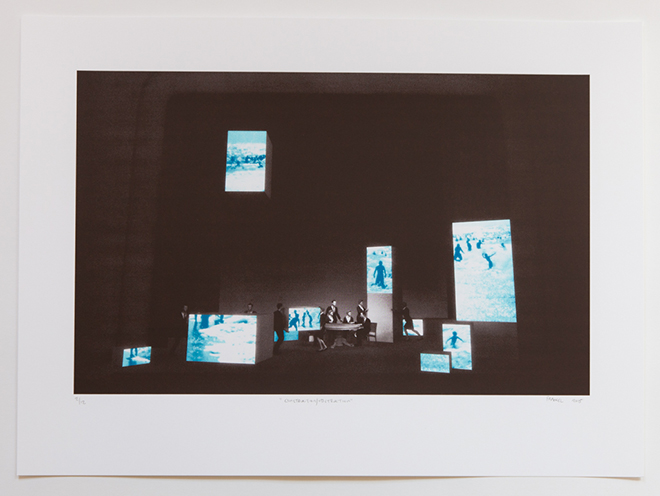 Construction/Obstruction
Silkscreen Print, edition: 12
23"x17"
2015
This print represents one of the first staging-concept renderings for the Jacobs/Moses opera. The set will be composed of modular "blocks" that the cast will rearrange during the performance, as this is ultimately a story about how we are affected by and can affect the shape of our landscape. The halftone dots from the silkscreen process echo the effect of the LED video screens on the blocks, utilizing a technology which is being developed by our partner 3-Legged Dog.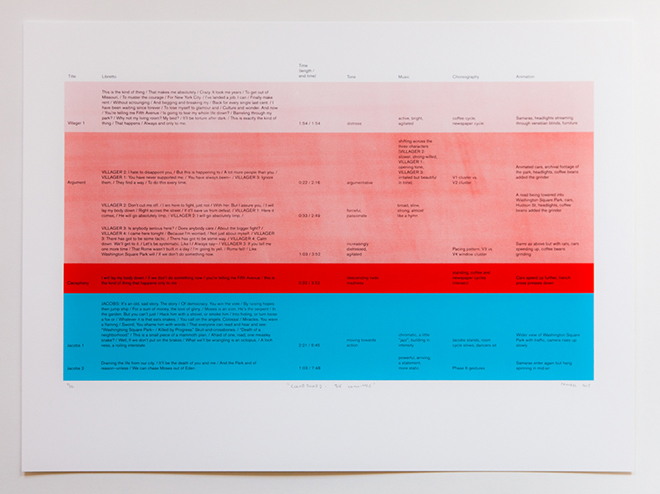 Colorboard: The Committee
Silkscreen Print, edition: 12
23"x17"
2015
This print exposes part of the opera's interdisciplinary creative process. For each scene a "Colorboard" is being created which lays out the libretto alongside notes on music, choreography, and animation, indexed vertically by time. The color in each band broadly communicates the mood or tone in that moment. This print will be signed by Greenstein, Smith, Rawls, and Frankel - the four core members of the opera's creative team.